Overview
Gurjap Sekhon had been in the auto industry for over 17 years when he immigrated to the U.S. in 2008, after which he worked at dealerships, eventually becoming a team leader at Mercedes-Benz. While he holds a mechanical engineering degree, he knew car repair and maintenance was the career for him. Gurjap left his job to start his own auto shop, Euro Garage. Shortly after opening, Gurjap found and quickly implemented Shopmonkey to help run his business in a streamlined, professional manner.
The Challenge
Building a Strong Rapport | Clunky Customer Communication 
As a new shop, Gurjap knew his business had to be professional and inviting to acquire and retain customers. This was difficult without a dedicated system to manage his workflow and invoices. Especially for a small shop, lost time really equals lost revenue. Productivity, efficiency, and time management were all on Gurjap's mind.
One area that was a significant bottleneck: customer communication. Gurjap felt he was spending too much time communicating with customers and not enough time getting the job done. He explains, "I would send the estimate, then I would call them, and then I would explain what was on the estimate. Sometimes, I would use my personal cell phone to send pictures to help them understand a line item on the estimate."
That's a lot of steps, and Gurjap knew it, saying, "I was also really bothered by how clunky this experience felt to my customers. I needed a new solution." 
On his search to streamline his shop's workflow and modernize his customer communication process, Gurjap tried it all. He demoed and trialed multiple shop management systems, put together customized spreadsheets, and thought about building some of his own formulas. And then he found Shopmonkey. 
The Solution
Professional Customer Communication | Workflow Organization 
When Gurjap was testing out various shop management software, he asked himself: "Which is the slowest? Which is the fastest? Which is more complicated? Which is more user-friendly?"
"I'm not a computer geek. I'm not an IT guy, and I don't like overly complicated things. I'm a grease monkey," he says. "Because of this, I was immediately captured by the user-friendly nature of Shopmonkey." 
After a surprisingly seamless transition and implementation period, he was pleased to see many of his pain points addressed from the get-go.
The streamlined, professional look of Shopmonkey was an immediate win, "Customers associate a professional look with quality work," says Gurjap. Additionally, the customer messaging feature solved all of his clunky customer communication issues. It was fast for the shop, and a seamless experience for customers, "Suddenly, I could send pictures of oil leaks or worn-out brake pads right from Shopmonkey without having to hop on the phone and explain the service listed on the estimate. The process is so fast."  
It's not just the customer communication that's been a game-changer. Gurjap has discovered that organizing and managing his workflow and processes in Shopmonkey is giving him time back to do what he loves: wrench on cars. "It saves more than half the hassle. I can say it significantly cuts down the time needed for day-to-day tasks," he says. 
As a young shop, Gurjap is excited that Shopmonkey can grow with his business as it evolves, explaining "As I go, I'm still learning a lot of things. I know that Shopmonkey is full of features that I'm not even using yet, but I hope to be soon!"
The Results
3x Customer Communication Speed
"I'm talking to three customers in the same amount of time that I was spending with one customer before Shopmonkey." - Gurjap Sekhon
50% Less Time Spent Running the Shop
By being intentional in organizing workflow and processes through Shopmonkey, Euro Garage spends half the time on administrative tasks and more time working on vehicles.
Building a Solid Rapport
Perception matters in business, especially when you're a new operation. The professional look of Shopmonkey's estimates and invoices, combined with the ease of online approvals and payments, have helped Euro Garage to quickly build a strong reputation.
About Euro Garage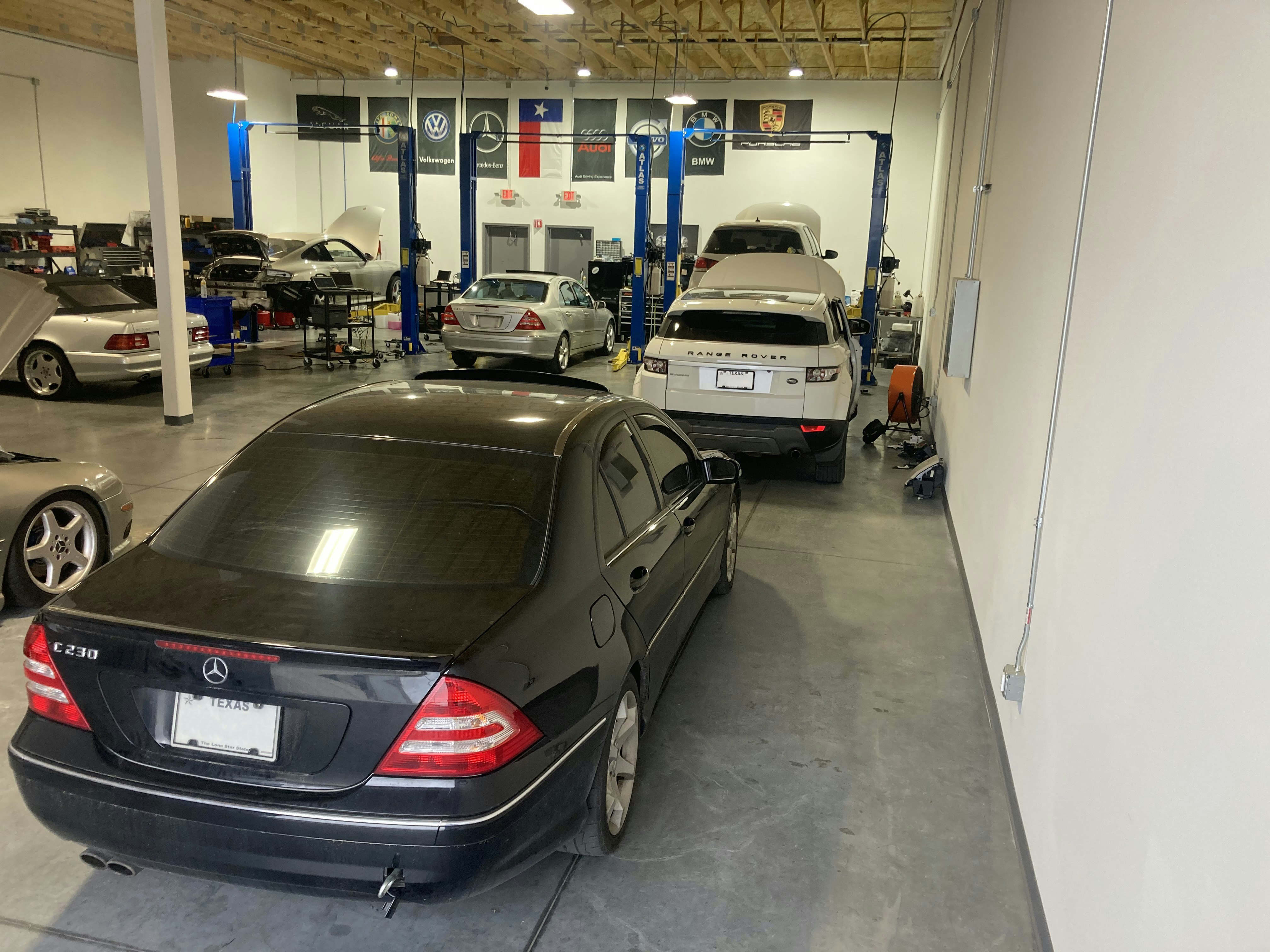 Located in Leander, Texas, Euro Garage specializes in Mercedes-Benz cars and SUVs, but also works on BMWs, Audis, Porsches, Volvos, Volkswagens, and other European and foreign brands. Owner and lead technician, Gurjap Sekhon, is happy to be using his nearly 20 years of experience working on European vehicles to build a team that's passionate about quality workmanship. They pride themselves in top-notch repairs at affordable prices.