Here at Shopmonkey, we love talking to our customers—auto shop owners, service writers, and technicians alike. When we talk to techs, the main thing we hear is that they want to be able to focus on their work and minimize distractions. For this, they need access to all the information relevant to their current task available at their fingertips, and they need to be able to provide updates on the status of the work as they complete it. Sometimes, it's so the next tech can start work on the vehicle, while other times it's so the customer can be alerted to come pick up their vehicle. No matter the reason, Shopmonkey is always working to provide a more efficient process for auto shop owners and their techs. That's where the Shopmonkey for Techs app comes in.
Available for both iPhones and iPads, Shopmonkey for Techs is the only auto shop management iOS mobile app designed and built with technicians in mind—empowering them with efficiency tools to streamline operational workflow and maximize their time. From the dashboard to the VIN and license plate scanner to time clocks, the iOS mobile app syncs seamlessly with the Shopmonkey web app to keep your teams on the same page no matter where they're working.
Let's take a look!
What's under the hood in the Shopmonkey for Techs mobile app
Dashboard
The Dashboard provides techs quick access to all work. With a to-do list, the ability to view and sort assigned Work Orders, and a time clock feature, the Dashboard serves as home base for techs.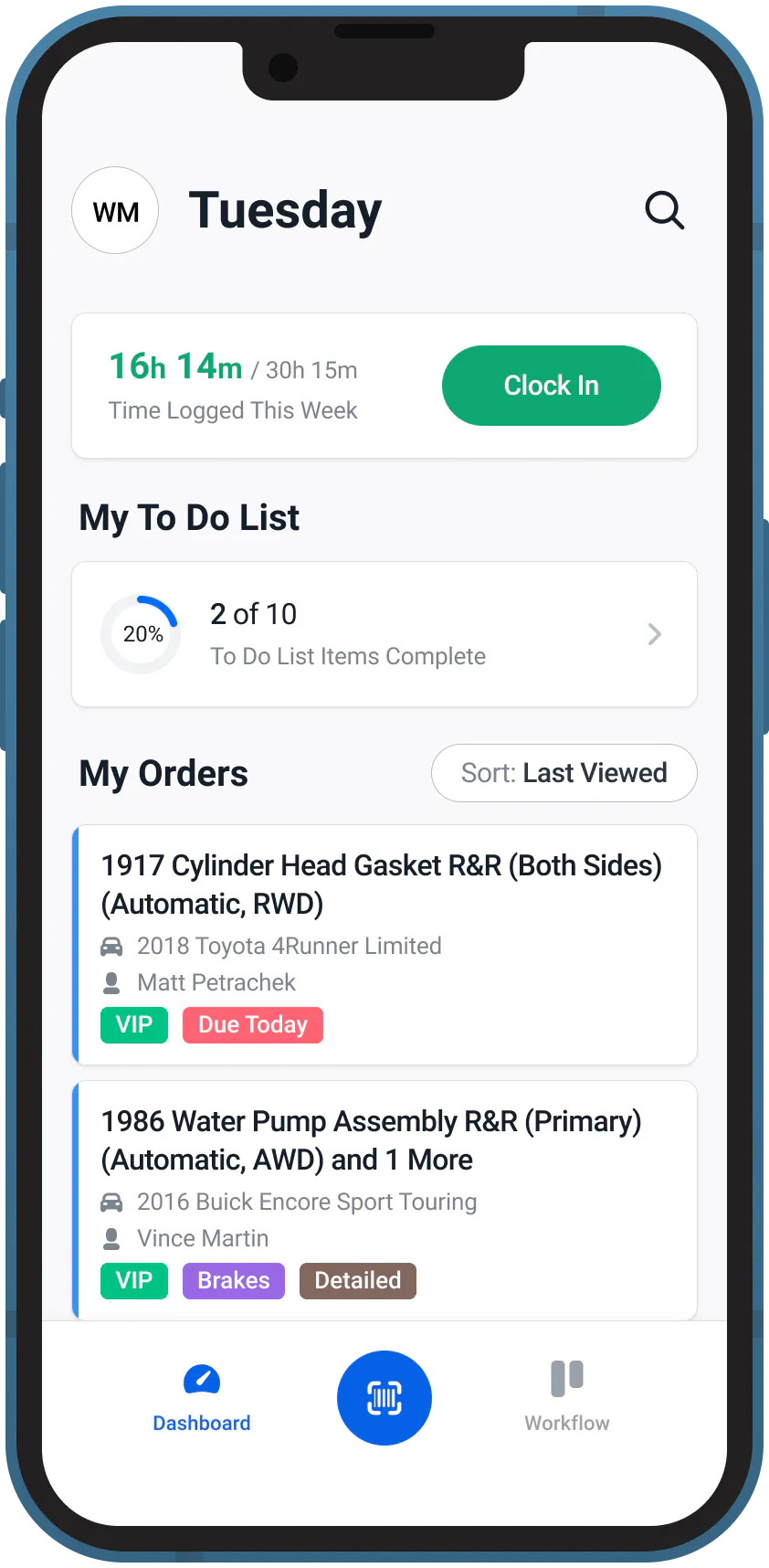 VIN/License Plate Scanner
Front and center in our bottom navigation is access to our VIN plate, VIN barcode, and license plate scanner tool. Check-in vehicles faster than ever with this state-of-the-art scanner. One tap of a button gives techs the ability to check in a vehicle, access related jobs, or add a new vehicle to the system.
Workflow
A tech can easily tap on the Workflow icon to follow work as it moves through the shop's system. Each column from the Shopmonkey web app is represented on this screen within the mobile app along with the total number of work orders in each column. A tech can tap on any column to access the Work Orders within.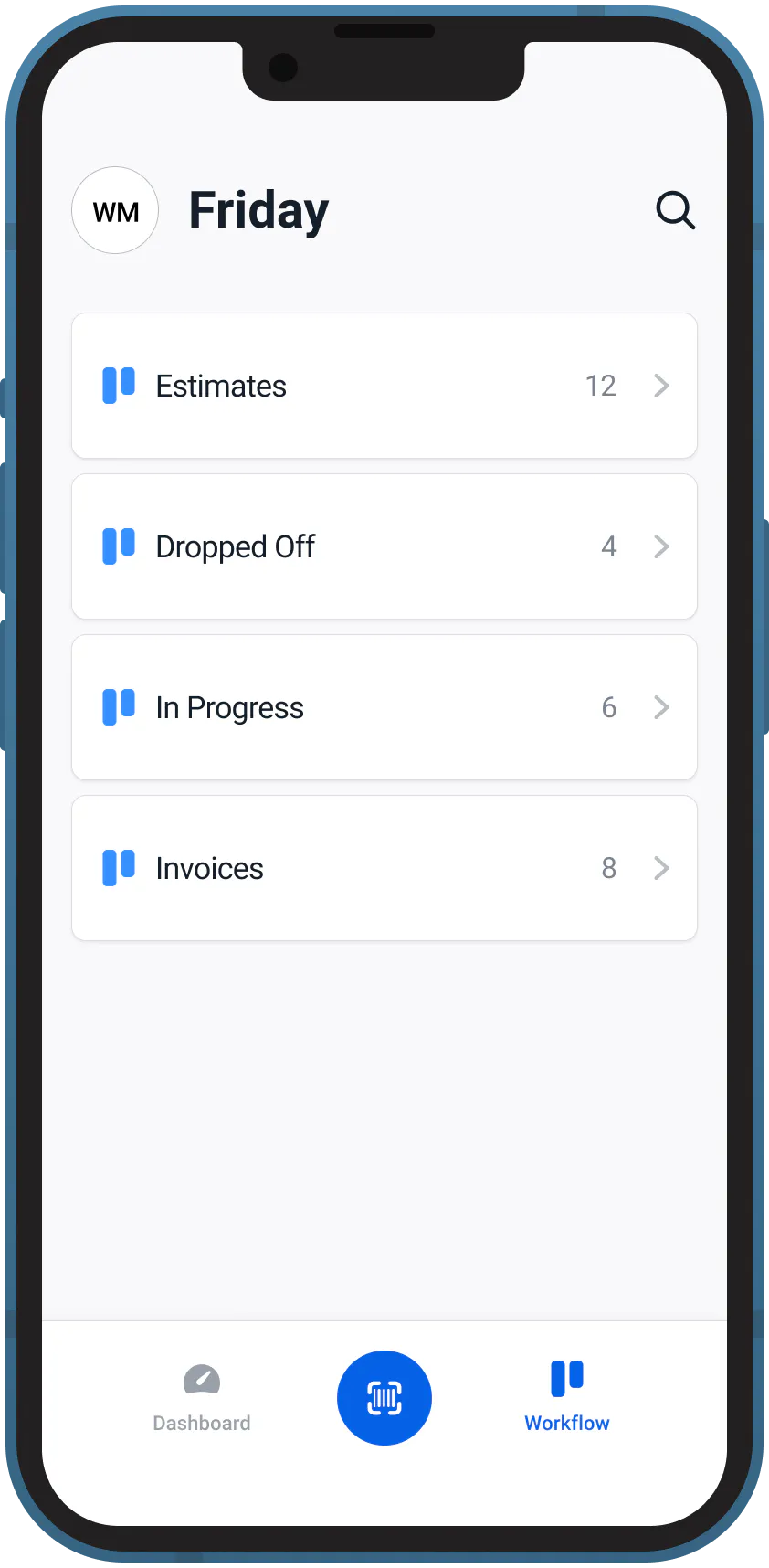 Work Orders
A tech can access the work orders assigned to them from a number of locations in the app, including My To-Do List, My Work Orders, and Workflow. Once there, Work Orders have all the details a tech needs to complete their work.
Digital Vehicle Inspections (DVIs) allow techs to provide detailed feedback, including capturing and uploading photos and videos, as well as the ability to mark up photos--saving everyone time and providing key information to your customers.

Diagrams, Procedures, Fluids, and Specs from Shopmonkey's MOTOR integration provide the necessary technical overview for techs to quickly complete their work assignments. 

Real-time Internal Notes on work orders simplify communication between techs and service writers for instant updates, keeping everyone on the same page.

Vehicle details, customer details, and parts information are just a few of the other pieces of information a tech can quickly access within Work Orders.
Time Clocks
With Time Clocks, techs can clock into general as well as any specific service or labor item with just a few simple taps. Techs can easily see the amount of time they've clocked for a day, the amount of time estimated for a particular service or labor item, and the amount of work assigned to them that's been invoiced that week. In addition, a time log allows techs to keep track of their time entries on the go. 
With mobile time clocks, you can use Location Sharing, requiring techs to share location services when clocking in and out for added accountability. This data is securely shared via the time log or technician summary report on the web.
---
With the Shopmonkey for Techs iOS mobile app, you can empower your techs to move through their workflow efficiently and accurately. Download in Apple's App Store today!*
Looking for the Shopmonkey for Techs Android app? Keep an eye out, it's in the works! 
*Note: A Shopmonkey subscription is required to use this app.