For many vehicle owners, remembering to get a routine oil change is like remembering to book a teeth cleaning. It's necessary, it'll save them money down the road, yet it is so easy to forget without a reminder. Get your customers back into the shop with our new Oil Stickers feature! 
Customizable Oil Stickers To Keep Customers Coming Back
Here at Shopmonkey, we believe that the best part of returning customers is when they return to YOU. So, in addition to including your customer's mileage and return date, we've designed our oil sticker feature to allow room for your shop's logo, website, and phone number – to keep your shop top of mind! For a more simplified sticker, just turn these custom options off.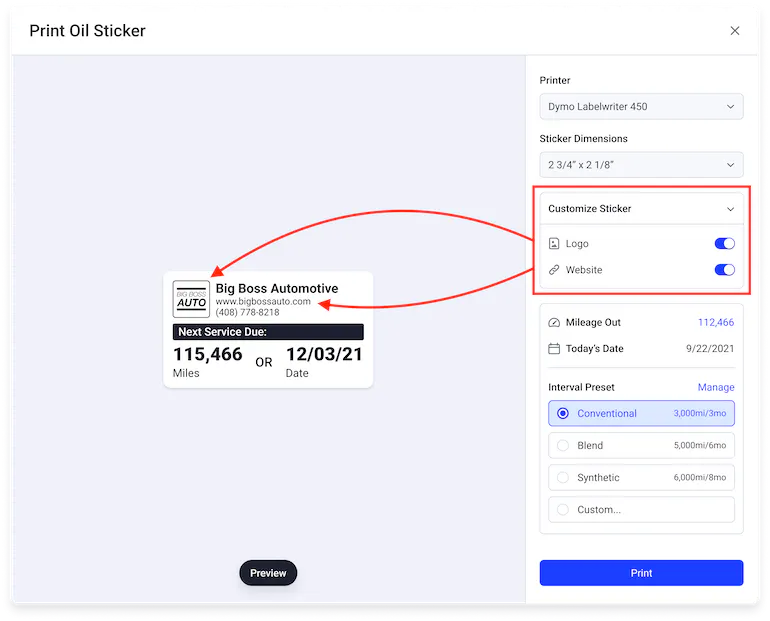 Use Preset Change-Intervals to Quickly Calculate When a Customer is Due for Their Next Oil Change – Without Doing Math
Give your team the ability to automatically determine exactly when customers should return for their next oil change. Using customizable interval presets, Shopmonkey Oil Stickers allows you to quickly calculate a customer's next oil change – right from the work order – based on mileage and months. With this automation, you can remove all the guesswork and let Shopmonkey figure out the return date and mileage to be printed on the oil sticker.
We start you off with three of the most common interval presets and give you the keys to edit them or add as many custom intervals as your shop sees fit.
We also built in the option to add a one-off interval calculation right from the menu – just in case your preset options don't cover that walk-in Model T you didn't see coming.
Add a custom interval on the fly: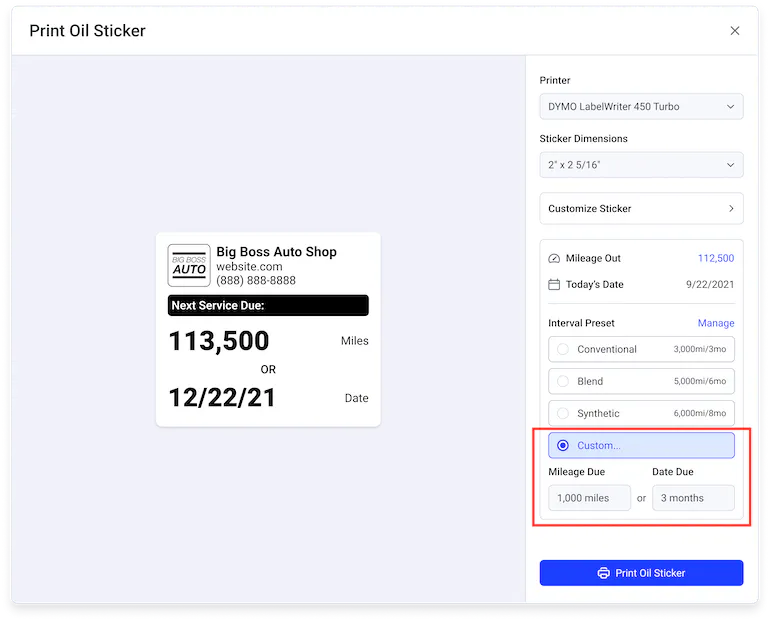 Simple to Set Up
Your time is precious, and we built this feature with that in mind. Whether you're using a PC or Mac, you can connect a supported Dymo printer and start printing in a matter of minutes. We extended this customization to your printer setup as well. With more than nine unique label sizes and support for most Dymo printer options, we have you covered.
We ran this setup process by our trusted test shops, and they agreed it was extremely easy to set up, with Ryan Richmond of Coast Auto Repair saying they: "Love how it looks and the ease of how it prints."
Lightning-Fast Printing from Any Work Order 
Easily Integrates into Your Existing Shopmonkey Workflow
We added the print option to every work order to keep printing lightning fast. After setting up Oil Stickers, just open the print menu from any order, select "Print Sticker," and make your selections.
Quick and simple — the Shopmonkey way.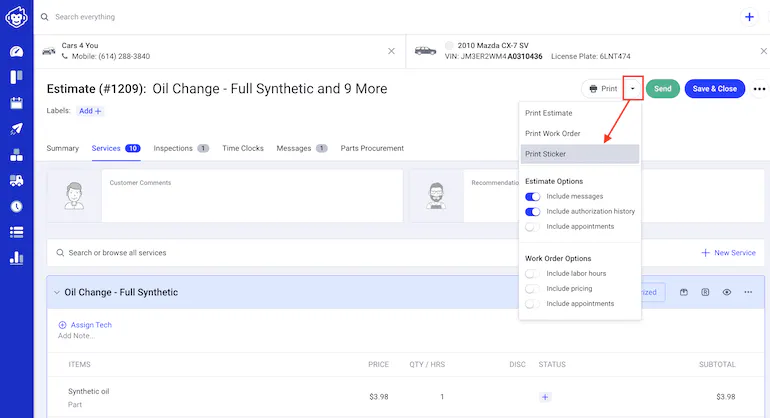 Get Started with Shopmonkey Oil Stickers
Already a Shopmonkey user? Our new oil stickers feature is easy to set up and available as an add-on for our Clever and included in our Genius Plan! Talk to your shop's admin to upgrade or sign up for a 30-day free trial. You can also check out our oil stickers help article here.
And if you're not a current Shopmonkey customer but want to see our new oil stickers feature in action, sign up for a demo today! You'll be able to check out all of our other cool features as well, and find out how Shopmonkey can help your shop grow!