Let's start with the data.
63% of consumers say they are likely to check reviews on Google before visiting a business 
45% of consumers are likely to check reviews on Yelp before visiting a business
If your auto shop doesn't have at least a dozen 5-star reviews on both Yelp and Google, then:
You're not soliciting customer feedback and reviews like you should be.

You're missing out on business that should be coming through your door.

Perhaps you're not utilizing all of the marketing tools available to grow your business.
But the truth is, if you fall into any of these camps, you can change your business in just three steps.
Here's how:
Step 1: Claim your 'Google Business Profile' and 'Yelp Business Page'
If you have not signed your business up on Google and Yelp, do it now. Otherwise, you won't be able to manage your business information or even respond to the customer reviews you're going to be receiving.
Step 2: Create message templates to request reviews from your customers
Now it's time to create a business process that your shop can follow to start building a known 5-star business. One of the best ways to do this is to ask your happy customers to write a review. I recommend you write two messages. 
Message 1: Thank your customer for their business and ask for their feedback
Example: [First Name], Thank you for your business. We hope we exceeded your expectations. But just to make sure, we'd appreciate your feedback. On a scale of 1-5, with 5 being "exceeded expectations" how would you rate your experience with [Company Name]? 
(By creating an initial message that asks your customer for feedback, it allows you the opportunity to correct any issues that may have occurred during your customer's visit; not only improving your business but letting your customers know that you care more than just any shop.)
Message 2: Ask them for a review and link to your Google Business profile or Yelp page
Example: Thank you for your feedback. We're glad you're satisfied with your experience. Please let others know how you feel by writing us a review on Google or Yelp.
With Shopmonkey, acquiring reviews from customers is easier than you think.
Click on any estimate in your Workflow

Click "Message," ⇒ click "More" and ⇒ click "Manage Templates" 

Click the "New Template" button to create your new customer engagement message. Like we talked about, create one template thanking the customer, and one asking for a review.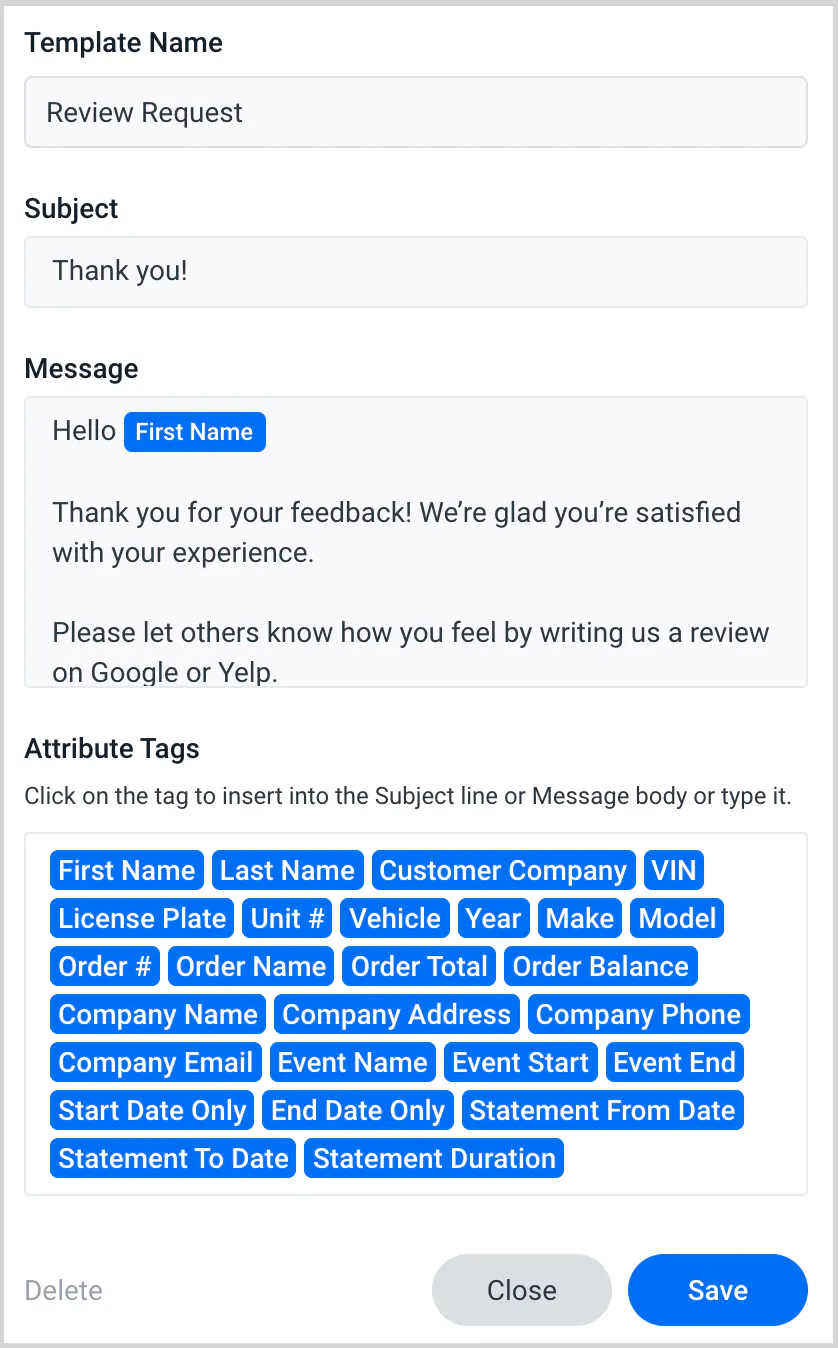 Step 3: Make review requests part of your shop's daily workflow 
Once you have your message templates in place, it's time to form a new business process habit to make sure you are trying to get a review from every customer.
With Shopmonkey's customizable workflow, you can do this in just a few seconds. Just click on the ellipses located on the Workflow page and ADD A NEW COLUMN - Name it "Reviews."
After invoicing is complete, move the invoice into the new "Reviews" column and send your customers thank you or feedback messages at the end of each day. And in only four clicks per customer, you're done!

As your customers respond, it'll be up to you to address their feedback (both positive and negative) and follow up with a link asking them to leave you a Google or Yelp review.
By making this part of your daily routine, you'll begin to notice an increase in your positive reviews. And with up to 63% of consumers checking reviews out first before bringing their cars to you, you'll see your schedule fill up and your revenue increase!
That is, of course, assuming you're performing high quality work... but then again, we know you're already doing that ;-)
To learn more about Shopmonkey, schedule a demo today.