Did you know?
2.71 billion people in the world own a smartphone¹
Open rates for text messages are 90%²
86% of texts are read within 60 seconds²
If you own or manage an auto shop, it is crucial to pay attention to this data and act on it.
It's time for auto shops to jump on texting trends
Many of our customers have shared with us that prior to using Shopmonkey, they spent a ton of time on the phone. Migrating from the phone, as the primary means for customer communication, to text communications has been a key game-changer for their business and a huge timesaver. From appointment reminders all the way to payments, our customers use Shopmonkey Messages to text customers for multiple touchpoints to keep customers informed.
". . . The feature I like most is the transparent, simple, clean, and professional way Shopmonkey allows you to communicate with your customers. Their system saves us time in communication, which means we can communicate better, more often, and still in less time than traditional ways of picking up a phone. Customers like being kept in the loop more, which means they call in less and feel more cared for. All in all, our customers are thrilled with the new software, and our shop office has never been more calm and available for them." -

Jonathan E., shop owner
"The amount of time saved in the day having the ability to text and email customers directly through the system instead of playing phone tag is impossible to put a price tag on." -

Sean W., shop manager
How to use text communication to expedite estimate approvals
Shops are looking to streamline the estimate approval process and provide a better customer experience. When the phone is the primary means of communicating with customers, a car can sit in the shop for hours waiting for the customer to be available to answer their phone. Once the customer does answer, a member of the team must patiently spend time explaining each line item of the estimate, adjust as necessary, and then get a verbal approval.
Some shops are trying to switch to text communication as best they can by using personal phones to text customers. This approach shows that a shop understands how their customers prefer to communicate, but on the other hand, it is hard to keep an organized record of all communications.
Let's take a look at how easy it is to get an estimate approved through Shopmonkey Messages, while simultaneously documenting all messages to and from the customer.
Sending an estimate
‍Once an estimate is ready for customer review and approval, simply click "Send", select SMS (and Email if desired), insert custom message (or use a template message), and shoot it off to the customer.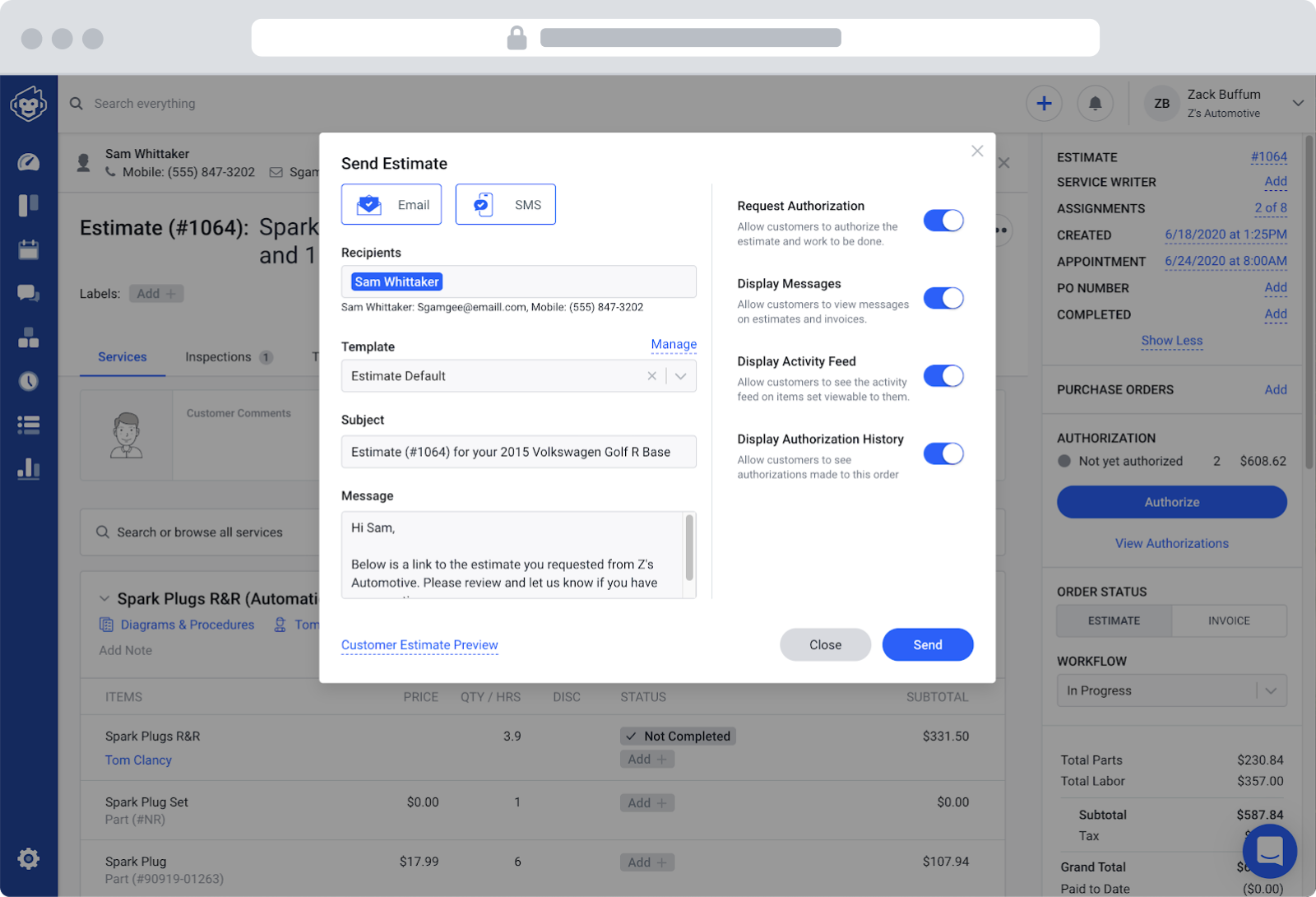 Supporting with digital vehicle inspection
‍You can also send a digital vehicle inspection to support the estimate. By showing photos and/or videos of what is wrong, along with a note of explanation, customers can visually see and understand what is wrong. This helps build trust and confidence in knowing that they are not being taken advantage of.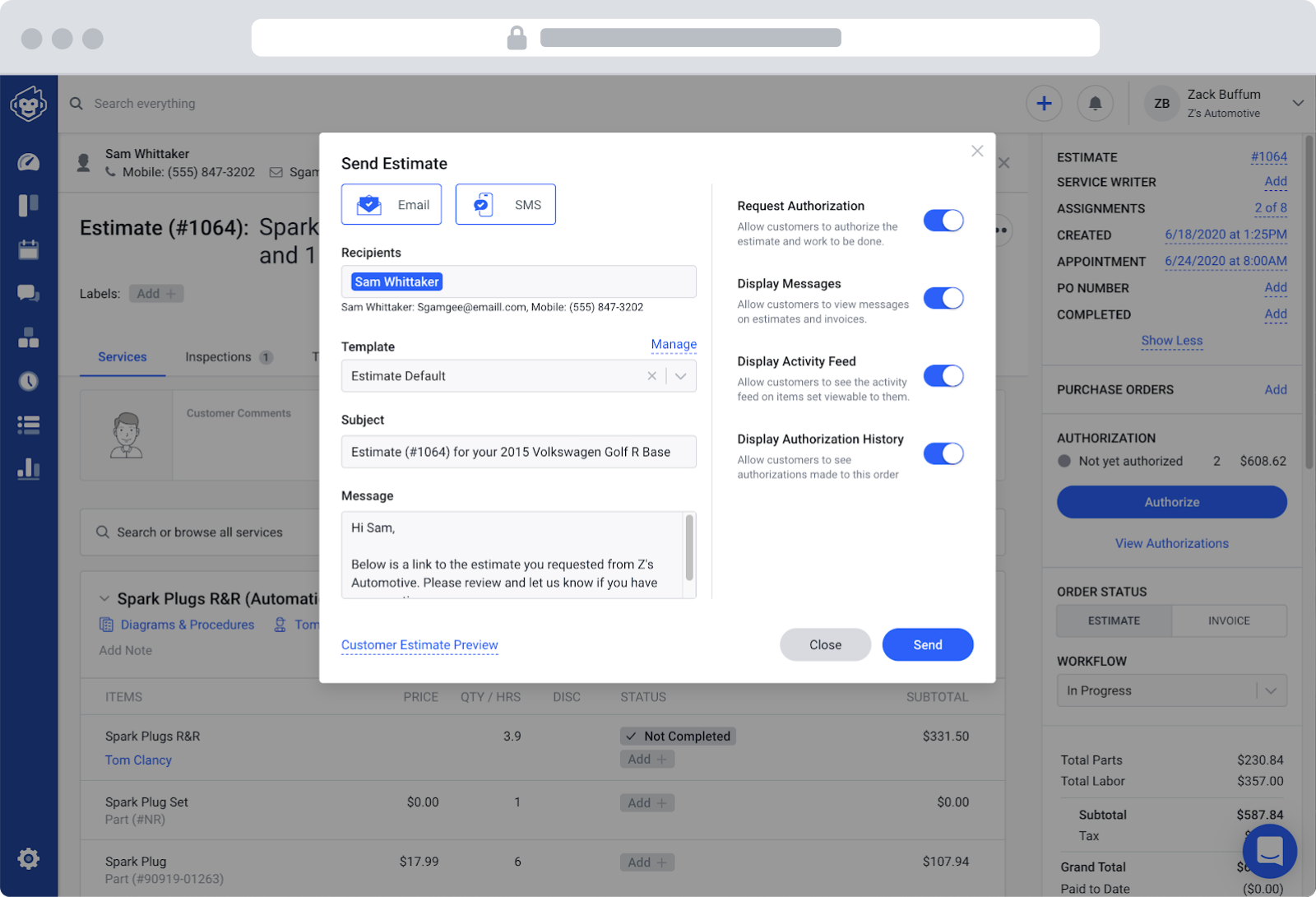 What the customer sees
‍When a customer opens their estimate, they can review all recommended services, de-select the service(s) that they would like to defer, and then approve the estimate.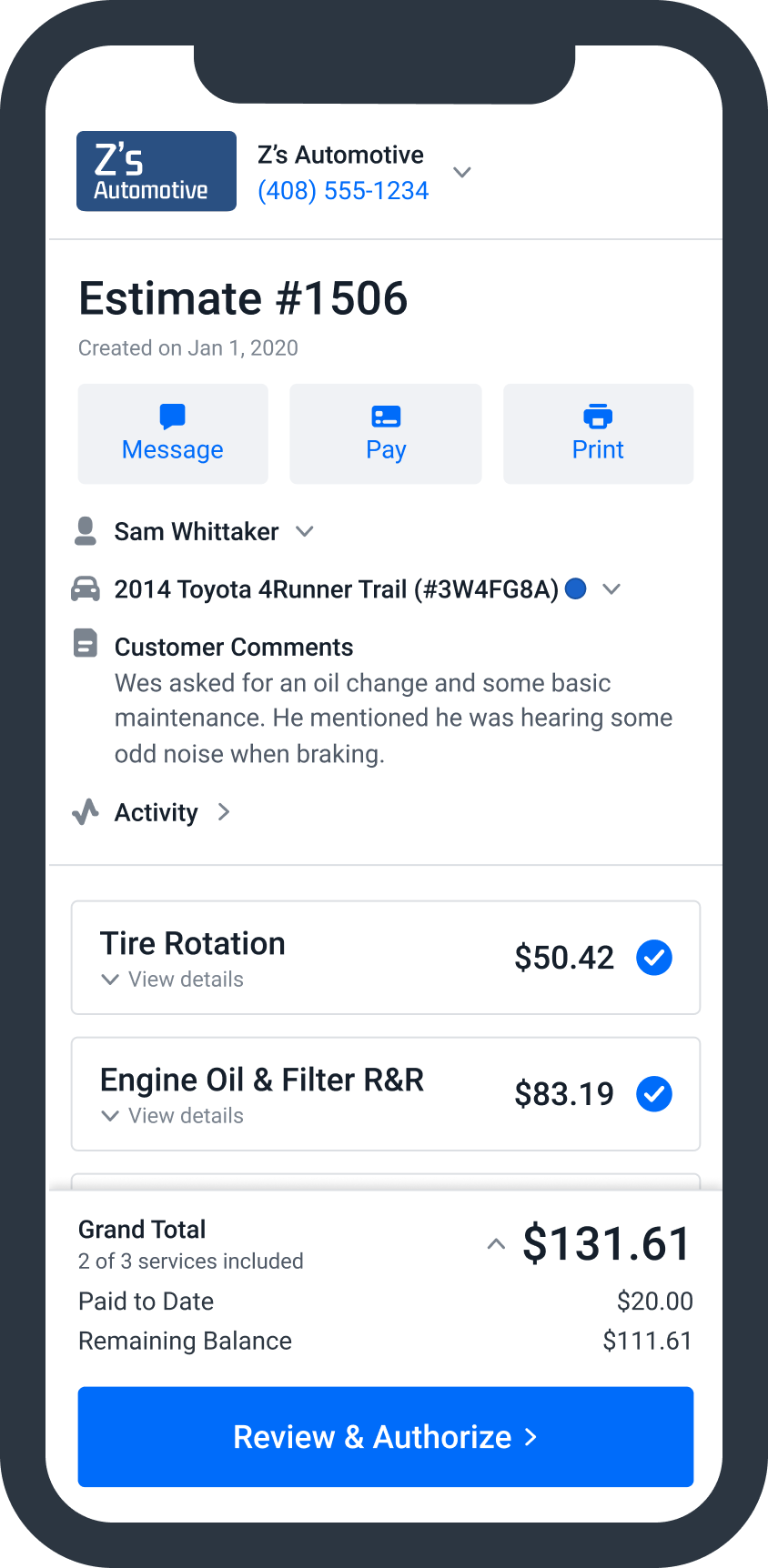 What happens once an estimate is approved
‍Two things happen once a customer authorizes and estimate. 1) The shop receives a notification that the estimate has been approved and 2) deferred services (if applicable) are saved to the customer profile and can easily be recalled at a later date.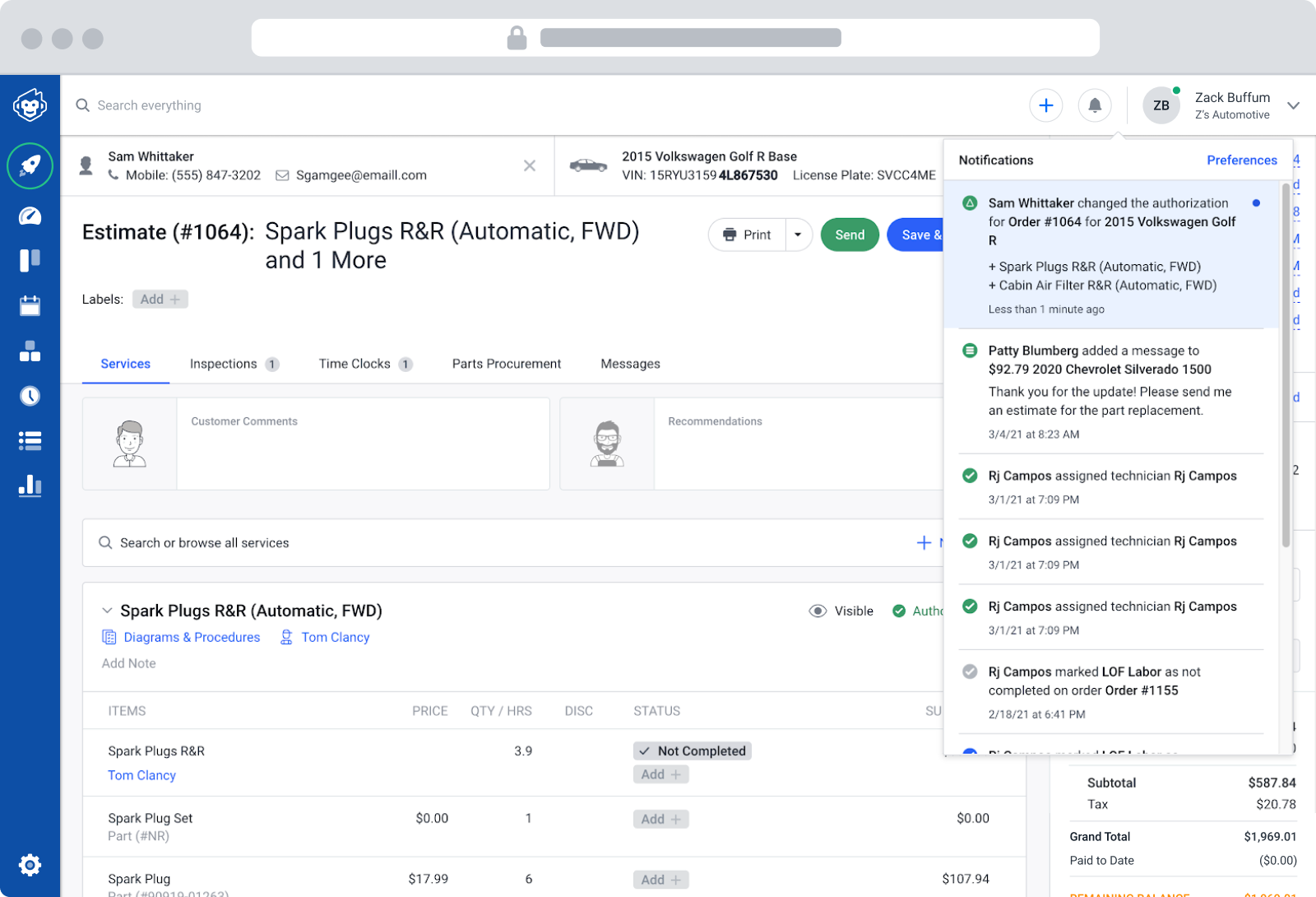 Message documentation
‍It's also important to note that all historical messages are saved to the customer profile. This helps the entire shop know what's going on with every job, and makes it easy to look back and review conversations that have happened in the past.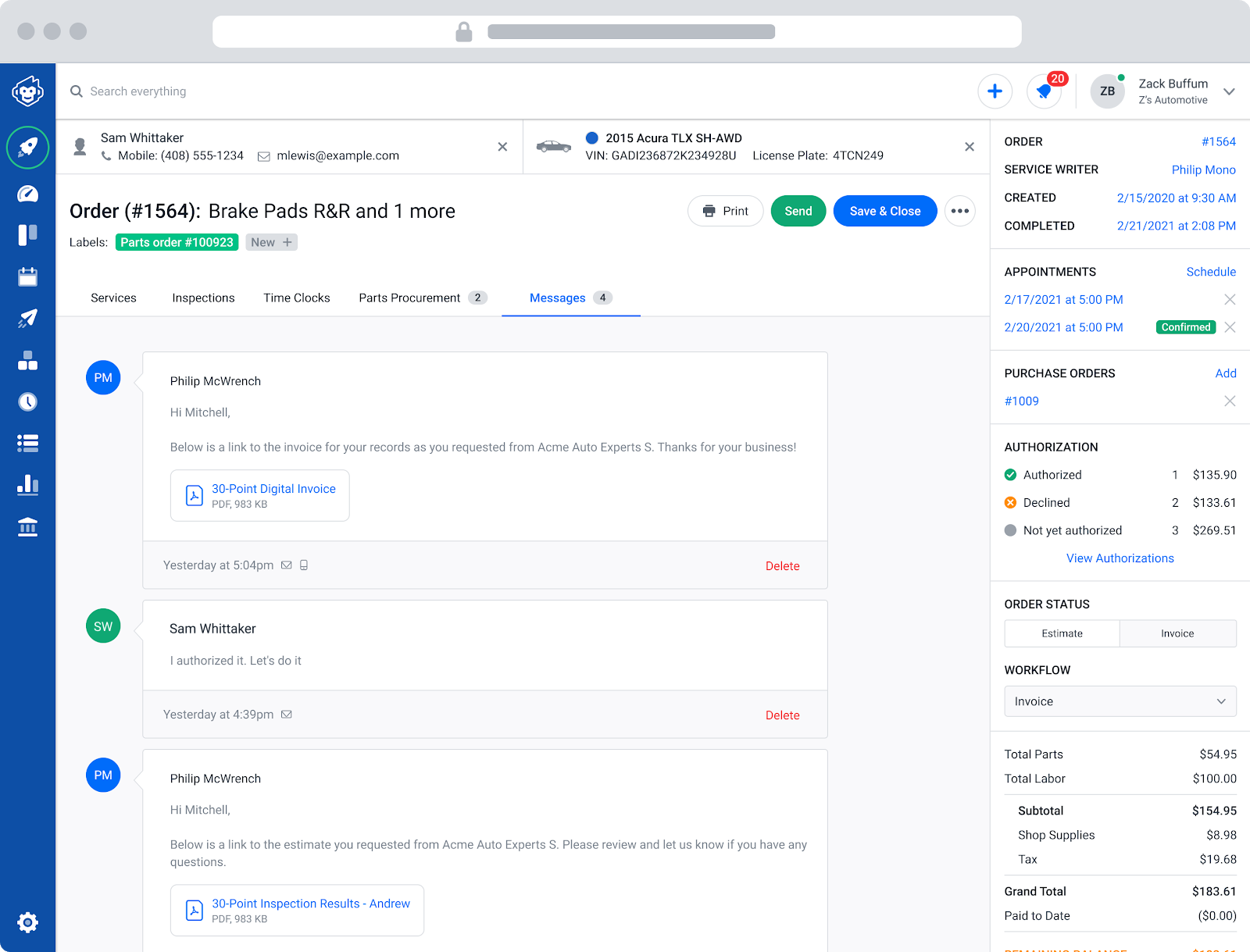 Gone are the days of having to play phone tag with customers to get a hold of them. With Shopmonkey Messages, you will save a ton of time and impress customers along the way.
"SEAMLESS estimate to RO to Invoice with inspections WITHOUT a single phone call to a customer! Shopmonkey is EVERYTHING wanted from a Management System. It is such a relief and my customers LOVE it!" -

Anthony B., shop owner
"The customer communication is nuts, I can send pics, text and email quotes and invoices, they can authorize work from their phones and even pay on the spot! Incredible."

Alex R., shop owner
Learn more about Shopmonkey's all-in-one shop management system.
________________________________________
¹ 29+ Smartphone Usage Statistics: Around the World in 2020