Our most successful customers are constantly looking for ways to be better — to save time, increase customer satisfaction, improve their gross profit, etc.
Fact: We've noticed that most of the top customers using our auto repair shop software have an average of 45 canned services set up for their shop.
What is a Canned Service?
Haven't heard the term 'canned service' before? Canned services are known by many names such as 'canned jobs,' 'pre-saved services,' or 'service bundles.' Within Shopmonkey's auto repair software, a canned service is a pre-saved job that includes parts and labor along with other line items. This pre-saved service can then be easily added to an estimate with the click of a button and modified as needed.
Why Use Canned Services?
1. Canned Services Save Time & Streamline Service Writing
How much time does your service advisor spend writing estimates? For most shops, writing a complete, well-organized repair quote that can be easily understood by the customer can take a fair amount of time and effort. A simple estimate can take five to seven minutes to write, while a more complex job, such as an engine build, can take up to an hour for even a seasoned service writer.
Many shops are still relying on outdated software or pen and paper for writing repair orders. This means that hours of time are wasted each week on repetitive service writing. Canned services help eliminate this by reducing the time to write an auto repair estimate for a common service from five minutes at the minimum to the click of a button.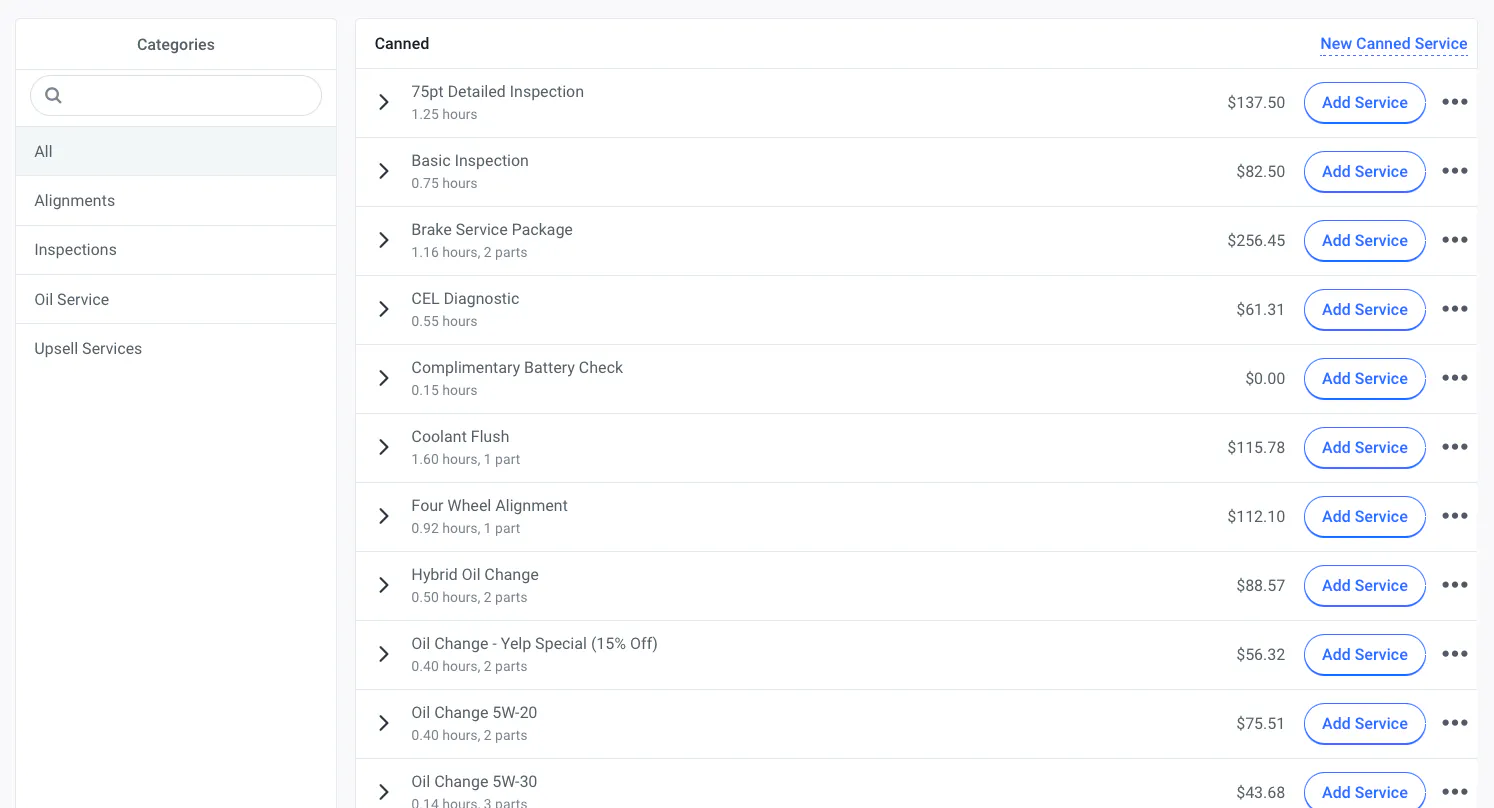 Example: Brake Service Estimate
Writing a complete brake service estimate by hand can take five to seven minutes for a straightforward quote, or more depending on how complex the job becomes. But adding a canned brake service job to a work order using Shopmonkey can be done in just a few seconds.
If your shop is writing 10 estimates a day, you're probably spending anywhere from one to two hours a day just on repetitive service writing — that time really adds up. There are around 260 working days in 2021. If you can save just 30 minutes in service writing time per day, that's 130 hours saved in a year!
Replacing the manual service writing process with canned services creates a dramatic time savings, allowing you and your team to focus on streamlining other parts of the business so you can bring in more customers and ultimately increase your bottom line.
2. Canned Jobs Increase Customer Confidence
Arguably the most fundamental aspect of operating a successful auto service business is focusing on the customer experience and boosting confidence in your shop. When customers trust your work and your process, they're far more likely to return to your shop with future work, far more likely to write you a positive review and far more likely to recommend your shop to their friends and family.
How you prepare and communicate your estimates plays a huge role in the confidence that your customer will have.
For example, when a customer comes in for a standard brake service, you could prepare a very simple estimate with just one line. But this vague estimate gives the customer no context as to what they're paying for: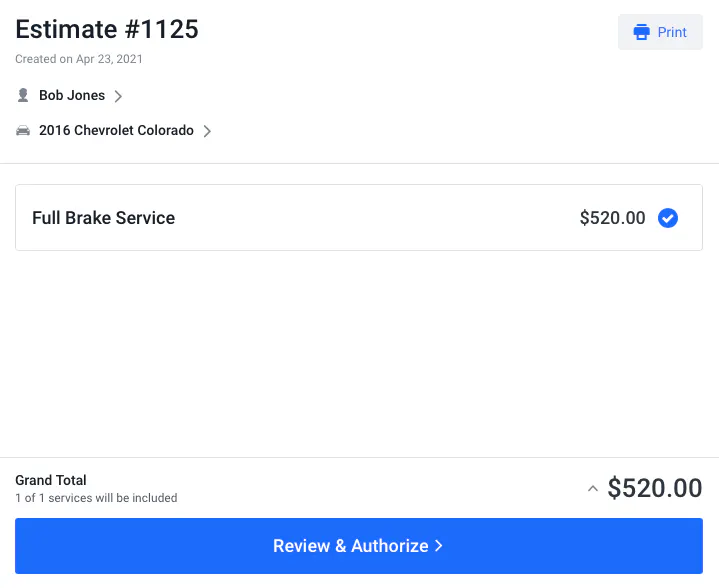 Instead, you can set up a canned service that details exactly what a full brake service includes. You only have to set the service up once and from then on out, you can click one button, and send your customer an estimate that provides them with in-depth information on what your brake service package includes: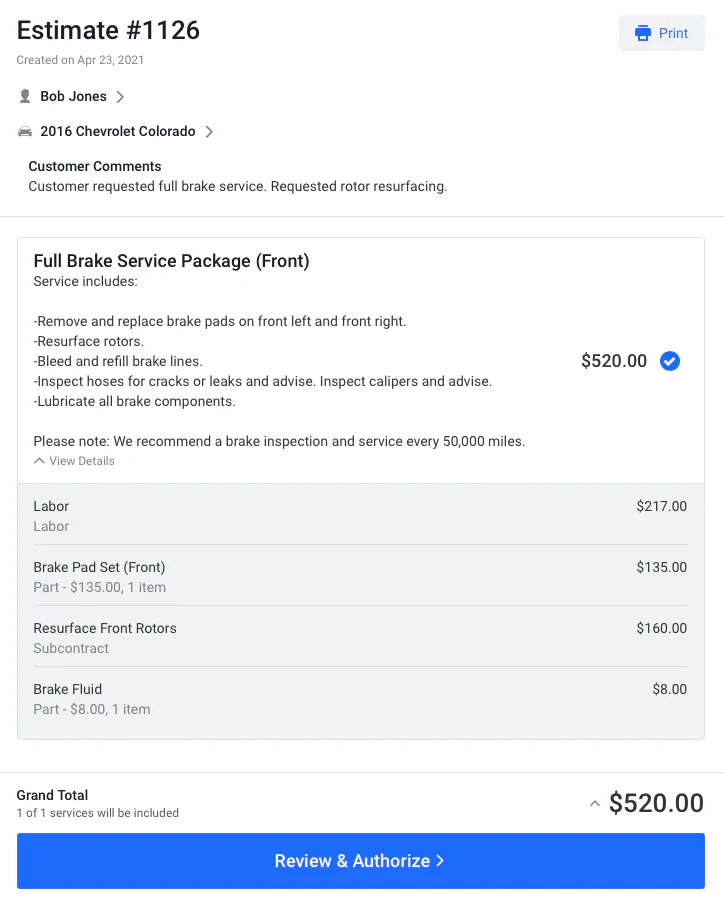 Which estimate would you want to receive?
3. Learn Which Jobs Make the Most Money to Maximize Profits
One of the benefits of using canned services in Shopmonkey is the ability to report on which jobs are the most popular at your shop, which services have the highest profitability, and more.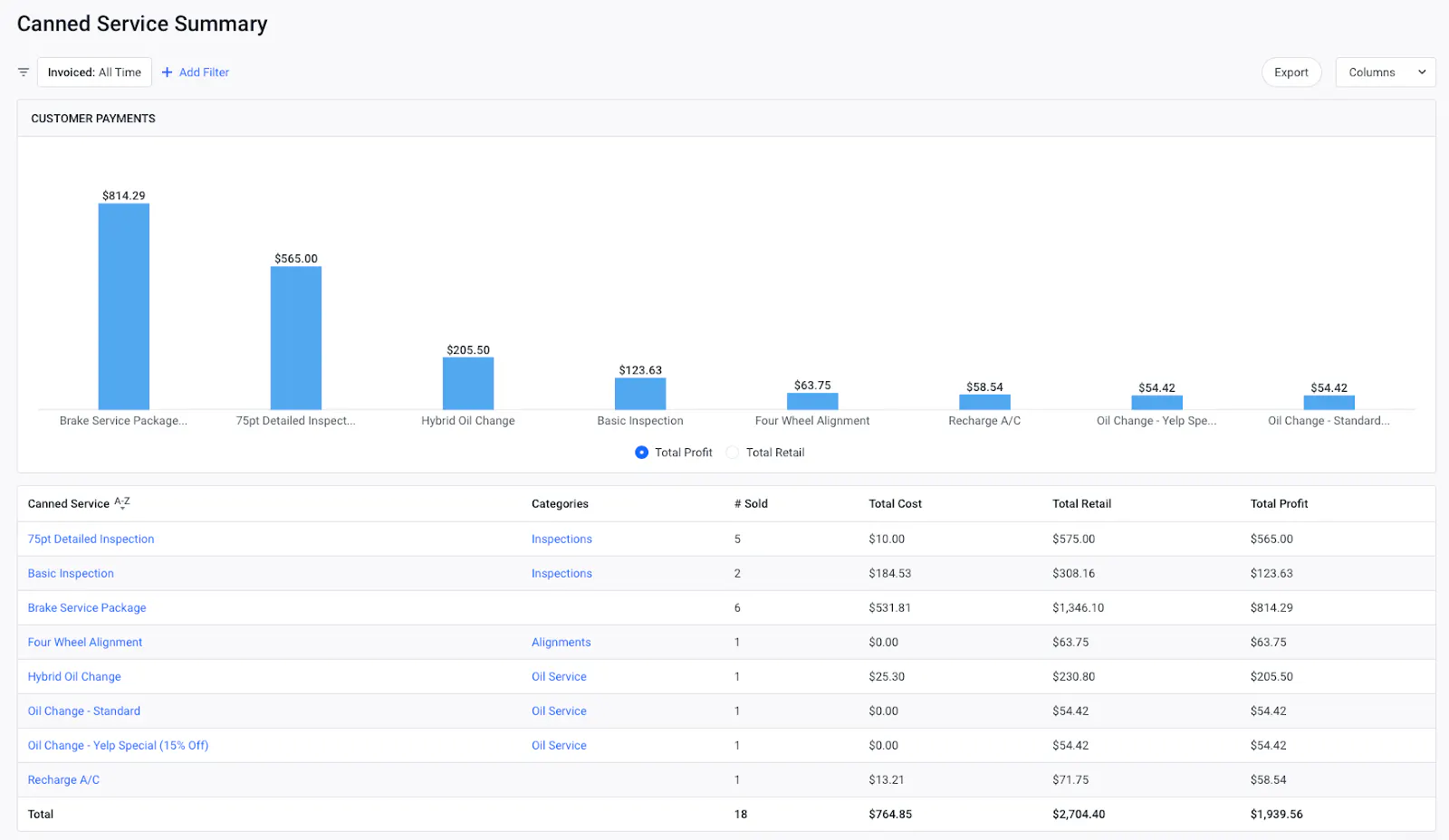 When considering service sales, it's important to ask yourself:
Which services are my best sellers? Which are the worst?

Which jobs are bringing in the most profit? Which are bringing in the least?

Which 'recommended' or 'upsell' jobs are performing the best and worst?
After you've identified which services are doing the most for your bottom line, you can begin focusing your marketing efforts on the right jobs and strategizing your upsell opportunities with your service advisors.
Another great way to track shop performance with Shopmonkey is by creating canned services with a 'recommended' or 'upsell' category so that you can track how your staff is performing when it comes to upsell completion.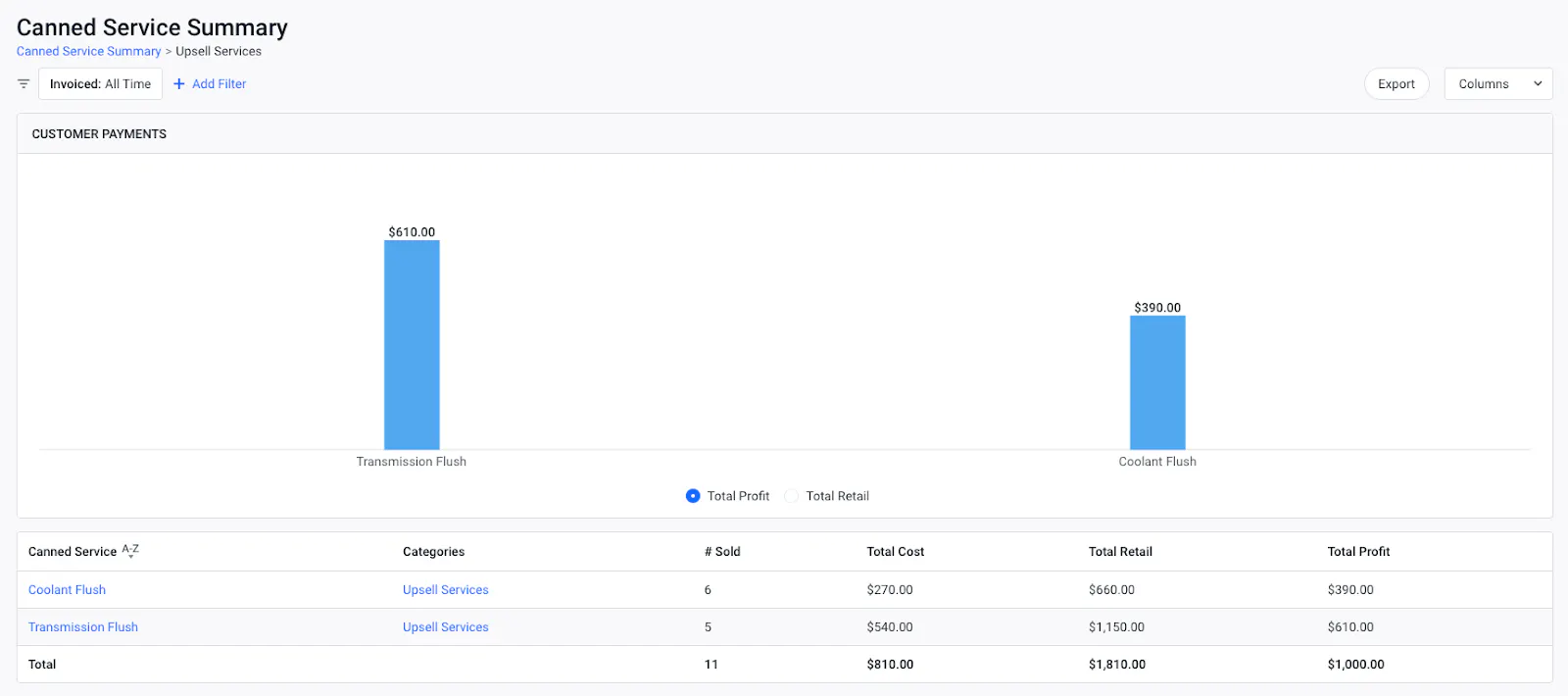 To sum it up, adding canned services to your existing auto shop workflow can have a big impact on streamlining your shop while improving customer satisfaction/retention and helping you understand the profitability of your most common services.
Canned services is just one of the many great features of our all-in-one shop management software!